If you're here reading this message, it means you are ready to start building your real estate website, and we're here to help you understand the full MLS Import installation process. Rest assured, you have full assistance from our dedicated technical support team through all the steps, services included in the $49 monthly fee. 
Check if your MLS is RESO ready
MLS Import works exclusively with RESO certified MLS, and for that reason, the first step is to check if your MLS is RESO ready. It's important to mention that RETS Feed technology is obsolete, and RESO is the latest technology every realtor should start learning about. RESO brings a unified standard to share data that benefits companies and realtors greatly. If you're not sure what RESO is yet, check this article.
You can check here the full list of RESO certified MLS that you can use with MLS Import. The list includes over 800+ MLS from the United States and Canada, and more add daily. Even if your MLS is not yet on the list, they may already be in the process of getting certified. It's essential to get direct confirmation from the MLS official team as well. If you're not sure how to confirm this information, contact our team to help.
Get the API server access credentials as MLS member
After we confirm your MLS is RESO certified, the next step is to get access to MLS data. The regulations for any MLS state that only members can access MLS data. And for RESO Access, the member must ask for the API server credentials directly from MLS.
Some MLS work with Zillow Bridge Interactive, others with Spark or CoreLogic's Trestle, and there are a few more options available. Rest assured that as a plugin, MLS Import can work with any RESO API server implementation.
Our team can guide you on how to get access from ABOR MLS, Miami, Florida, and a few more. If we haven't work with your MLS yet, we can contact them for you and also guide you on what questions to ask to get this info directly from them.
As costs for you, you should be aware that some MLS ask for an extra fee to get API access, but a lot of companies offer this service for FREE.
Get a compatible theme
MLS Import is a WordPress based plugin, and it will work if you have installed one of the following compatible themes, which must be purchased separately:
We have four public demos and some useful articles about MLS Import integration in the compatible themes:
How to integrate Real Homes with IDX / RESO
How to integrate Houzez with IDX / RESO
How to integrate WpResidence with IDX / RESO
Test MLS Import plugin
After you check and confirm your MLS can give you API data access as an MLS member, we can test the access for you with any of the compatible themes. The test will be done on our server and our test domains. You can reach us through our CHAT or contact page to arrange a test.
Buy MLS Import plugin
MLS Import is a plugin that you purchase month-to-month, and the cost is $49/monthly.
You can also go for a yearly agreement for a better price deal.
Additional to the month-to-month price, there is a one-time fee of $99 that you pay for the setup and installation of the plugin, which covers all the work required to set up your MLS, run the initial import and configure the auto-synchronization process.
Install MLS Import
Once you buy MLS Import, the support team will contact you and share the private client support account access where you will be in constant contact with our theme for the installation, import, and updates.
You will be asked to send our technical team your domain wp-admin URL, wp-admin username, and wp-admin password, along with with with FTP access and MLS API Server credentials.
We will install the MLS Import plugin for you.
You will only take care of buying and installing your choice of Real Estate theme. And if you need help with the theme installation, we can assist with this step as well.
Connect MLS Import to your MLS
MLS Import connects to your MLS with the credentials details provided by your MLS, and your MLS Import buyer username and password.
You will receive your MLS Import buyer username and password by email after the purchase is complete.
The Server API credentials must be given by your MLS directly to the MLS member who asks for the access. If your MLS requires any information about the provider that will help you import the listings, we will give you that information via your private client support account.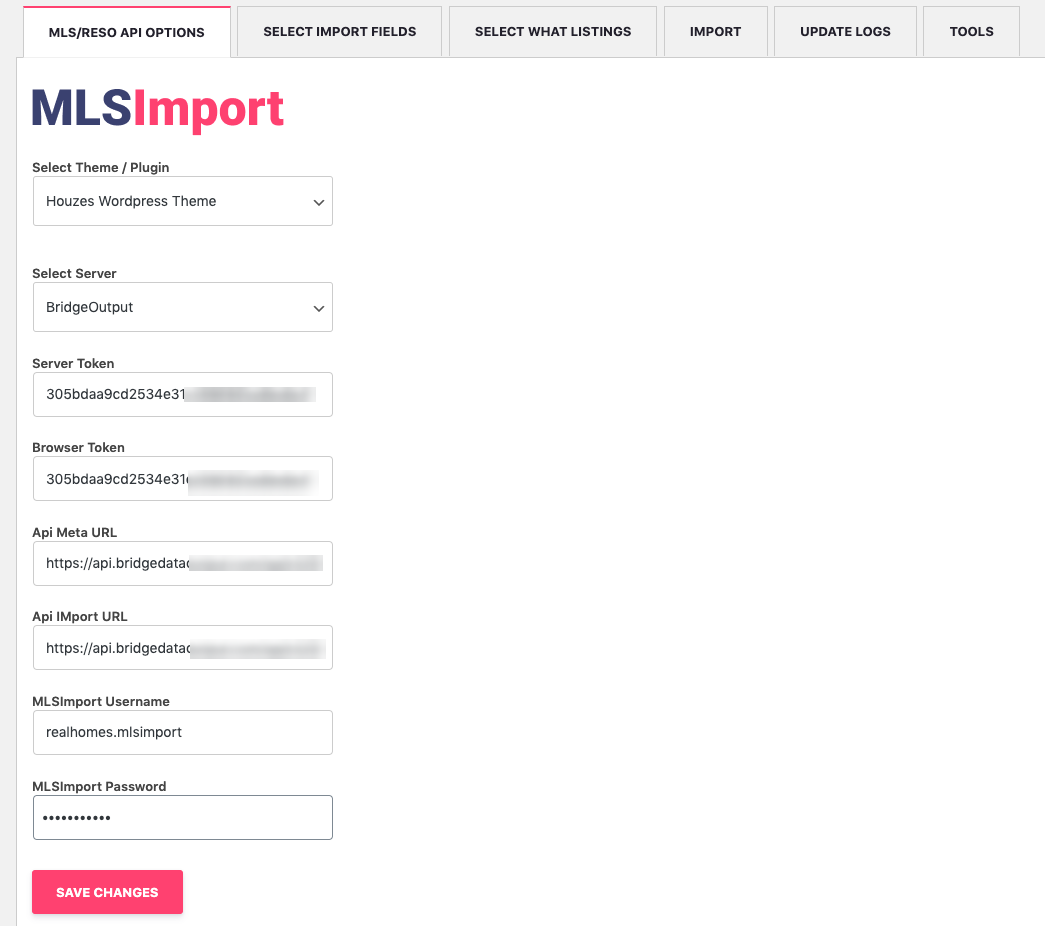 Configure MLS Import settings as you want
After the connection to MLS is active, you get access to "Select Import Fields" section. In here, you will see a very long list of features that exist in your MLS for each property. However, you need to check this list only one time. And you get full control over what fields to import, which to import and keep private in wp-admin only, and what is the text label of the field (if it's a public field).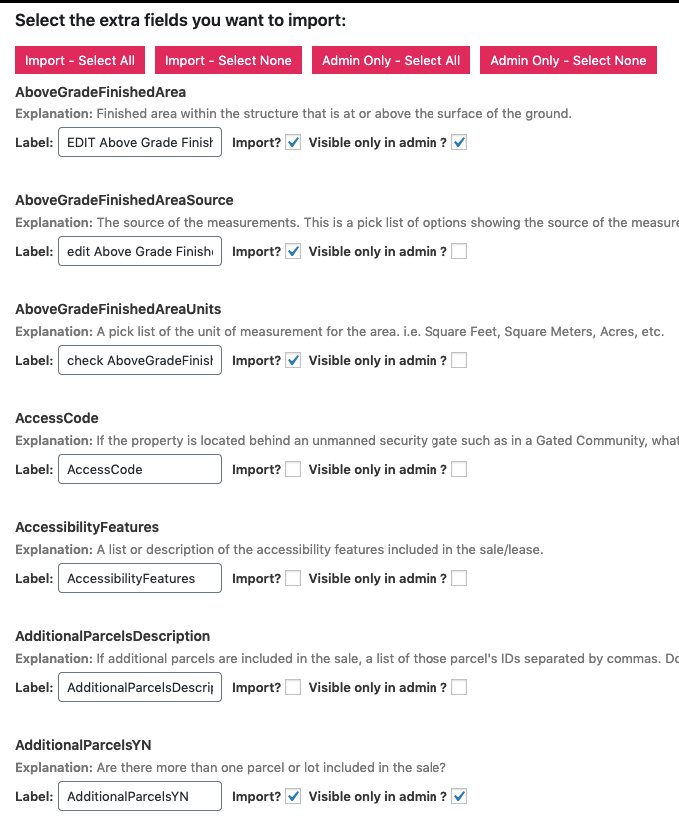 Run an import test
Although MLS Import is flexible and allows you to edit settings on the way as well, it's much easier to test the import and have your configuration done with a few properties, to be sure you covered all your needs.
For that purpose, MLS Import will allow you to run as many import tests as you want, with a few listings only.
You choose what listings to import from "Select What Listings Section."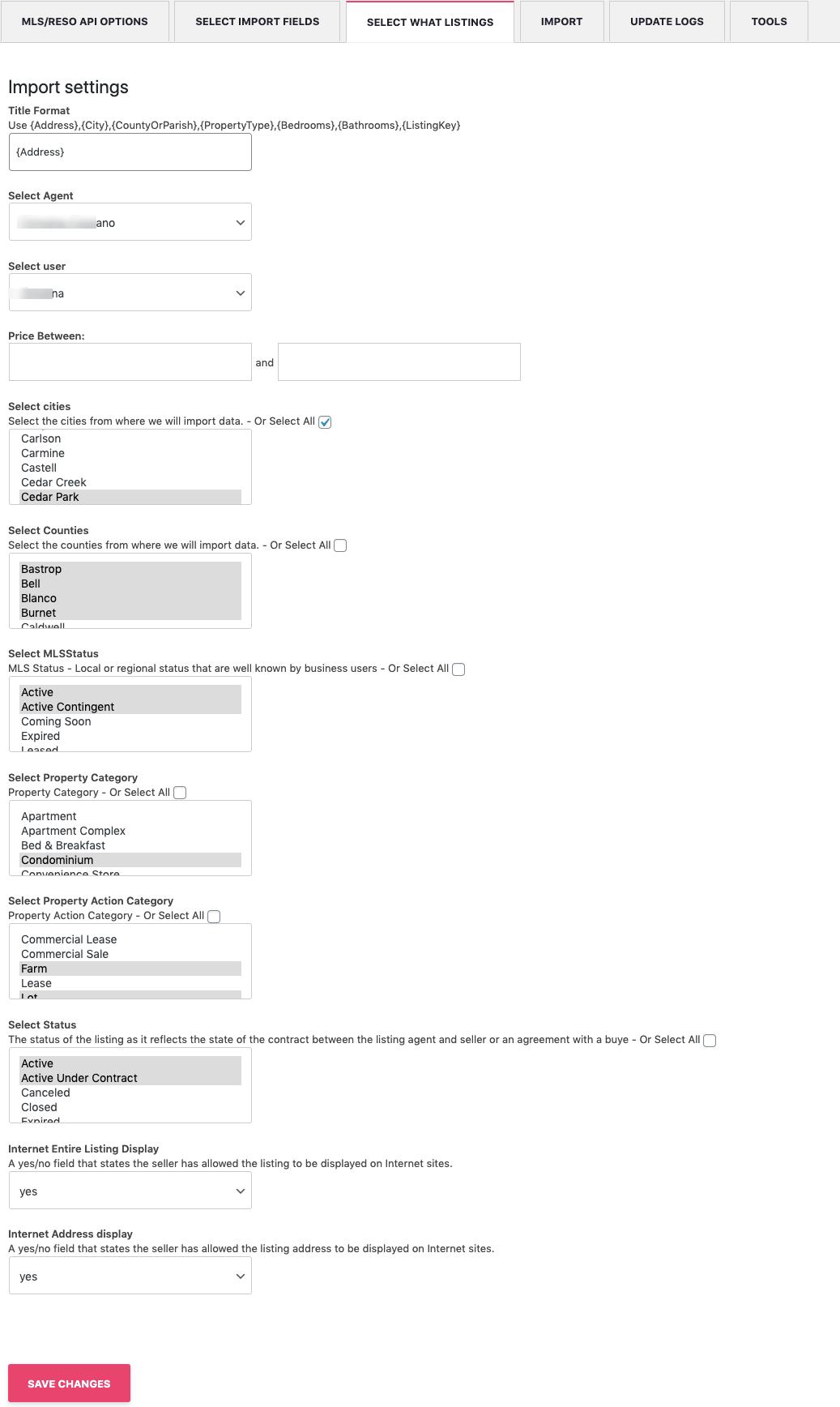 To see the possible Real Estate themes demos at work, please follow below links:
Import properties
You can do tests with a smaller number of listings to confirm you've covered all the settings you needed to import.  Select how many listings, and click "Start Import" to run tests.

Once you have chosen all the fields to import, we will do the initial import of properties, which can be a small or a vast number, such as thousands of listings. Depending on the number of properties you import, this process can take place over hours or days.
What we assure you is that during this period, our team will continuously monitor your server activity to make sure it's up and running.
During the import process, you can use your website freely and continue working on it. Your work will not disrupt the import process in any way.
Set-up the auto-synchronization process
Your MLS properties import in your WordPress database, but a cron will continuously update, import, and remove listings in the background.
This article accurately explains the entire auto-synchronization process that will continue to work as long as your MLS Import subscription is active.