What is MLS (Multiple Listing Service)?
The Multiple Listing Service, or MLS, is a valuable tool real estate professionals use to help buyers and sellers connect in the housing market.
The MLS is essentially a database of properties for sale within a given region, typically maintained by a local association of Realtors®.
By aggregating property listings from multiple sources into one central location, the MLS allows real estate agents to search for homes that meet their clients' criteria quickly.
If you have questions about how MLS works, please read this article: The Ultimate Guide: What is Multiple Listing Service ( MLS ) in Real Estate and How Does It Work?
Why is it important to integrate MLS into your real estate website?
As a professional realtor, you or your company may have a website with real estate listings that generate leads and bring new clients. Imagine that instead of having a hundred listings on your website, you can get 10,000 more.
That is what an MLS website integration will do to your business. It could exponentially increase the number of listings you can showcase and help you capture more leads.
For realtors, MLS integration streamlines the process of showcasing a wide array of properties, ensuring that listings are always up-to-date without manual updates. 
It offers visitors a comprehensive market view, enabling them to browse, compare, and make informed decisions on available properties. Additionally, an MLS integration enhances the website's credibility, positioning the realtor as a trusted and current source of information, which is crucial in building client trust and driving business growth.
Here is a short list of some of the advantages:
Comprehensive Property Database: MLS offers a vast, detailed property database. Its integration allows users to search and filter properties efficiently, ensuring access to relevant data.
Enhanced User Experience: MLS integration centralizes property information, sparing users from navigating multiple platforms. You get higher satisfaction and potentially higher conversion rates.
Credibility and Trust: Leveraging MLS, a reputable source licensed agents use, boosts the platform's trustworthiness. You can attract more potential buyers and sellers.
Up-to-date Data: Your website will have access to current and correct information.
Efficient Property Management: For agents and brokers, MLS offers a unified platform for listing management, reducing manual updates and errors.
Competitive Edge: An MLS-integrated website can distinguish itself from competitors, potentially leading to more user engagement and business growth.
Web Hosting and Domain Name
So you are ready to build a new website with thousands of MLS Listings? The first step is obvious – pick the right domain name.
Choosing the right domain name for a real estate website is important. Pick a simple and short name. Using real estate words like "homes" or "realty" is a good idea. Adding your city's name can also help locals find you.
Try to avoid using numbers or hyphens; they can be confusing. The ".com" ending is the best choice because most people know and trust it. Also, the domain should match your business name or brand.
After finding the domain name, it's time to find a "home" for your website. It means you need to get a hosting package/service.
Now, avoid picking a cheap $3 hosting. Your future MLS website needs to be fast and handle thousands of listings. That means you will need some power behind.
We reviewed a hosting solution from Cloduwasy and tested it with WordPress, WpResidence Real Estate Theme, and MLSImport.com plugin.
Creating a website and importing around 7000 MLS listings was easy. We recommend this solution, and you can check out this article/video if you need more details. Or you can see their offers here.
Choosing the Right Platform
It's time to get a little technical. Now that you have a domain and a hosting solution, it's time to build your website. You can follow this guide and make the website yourself. But…
We recommend hiring a company/freelancer specializing in these things and using this article as a checklist.
The next decision involves picking a content management system – the website platform. It is a piece of software installed on your hosting, and you will use it as a backbone for your website.
There are several alternatives, and in the list below, we underline the pros and cons of each one.

WordPress
Pros:
Versatility: Suitable for blogs, business sites, e-commerce, and more.
Plugins: A vast repository of plugins to extend functionality.
Themes: Wide range of both free and premium themes.
Community: A large community means many tutorials, forums, and resources.
SEO-friendly: With plugins like Yoast, SEO becomes quite manageable.
Cons:
Maintenance: Regular updates are required for themes, plugins, and core software.
Security Concerns: Being popular makes it a target for hackers, though security can be enhanced via specialized plugins.
Learning Curve: While user-friendly, mastering WordPress might be challenging for some.
Joomla
Pros:
Flexibility: Can handle complexity more than WordPress, suitable for e-commerce and social networking sites.
Extensive Extensions: Many components, plugins, and modules are available.
Multilingual: Native multilingual support.
Cons:
Steeper Learning Curve: Harder to master compared to WordPress.
Fewer Themes: Fewer design templates- few design choices.
Extension Compatibility: Not all extensions are compatible with all Joomla versions.

Drupal
Pros:
Robust and Flexible: Ideal for complex, large-scale sites.
Customizable: Vast array of modules to extend site features.
Security: Strong security features, making it a choice for many large corporations.
Cons:
Steep Learning Curve: Needs to be more beginner-friendly and more suitable for developers.
Module Overlap: Multiple modules might have confusing overlapping features.
Lesser Themes: There are fewer ready-to-use themes compared to WordPress.

Squarespace
Pros:
User-friendly: Designed for those without coding experience.
Beautiful Designs: High-quality, responsive templates.
Integrated Tools: Built-in tools for SEO, e-commerce, etc.
Cons:
Less Flexible: Limited compared to open-source platforms.
Price: No free version, and it might be pricier in the long run.
Limited Integration: Very few plugins or extensions.
Wix
Pros:
Drag-and-Drop: Easy for beginners to design a site.
Templates: Many design templates to start with.
Integrated Features: Comes with SEO tools, e-commerce, etc.
Cons:
Lesser SEO Flexibility: Not as SEO-friendly as some other platforms.
Limited Scalability: Handling very large sites or advanced functionalities takes more work.
Ads in Free Version: Display of Wix ads without a premium plan.
Each CMS has its strengths and weaknesses, and the right choice often depends on the specific needs of the website being developed.
However, WordPress stands out as the leading CMS, boasting an abundance of tutorials, support, and frequent updates. For this reason, we highly advise agents and brokerages to opt for WordPress when setting up their IDX website.
We have a complete guide about building an MLS website with WordPress. So after reading this article and understanding the general steps, you can explore the WordPress implementation.
Design and User Experience
Choosing a suitable theme or template for a real estate website is like picking the perfect outfit for a job interview. Just as you'd want to make a great first impression at the interview, your website must impress visitors when they land on it.
For real estate, the theme should showcase houses and properties clearly and attractively. Think of it as a shop window; if the houses look inviting and easy to browse, people will want to explore more.
People might leave if the site looks messy or hard to navigate, like wearing a mismatched outfit.
A good real estate design should feature important information: the website should have spots for property prices, photos, and details.
Consider this list a must-have for any real estate website.
An attractive property page template: You must ensure images are displayed correctly, and visitors can navigate or swipe through them easily
It would be best to display the map on the property page with the property location.
Add all the details in an easy-to-read manner.
If it is available, add a virtual 3D tour.
The listing price should be obvious – it's one of the most important details.
Add a mortgage calculator and any other monthly fees, like HOA.
Very important – On the property page, you should always have contact details and a contact form for visitors.
Add details about schools and high school districts.
Add a similar listings section on all property pages.
Each agent should have its page with a nice featured photo, contact details, and the listings they are in charge of.
Make sure a search form is visible on the home page, allowing the user to look for specific property categories, prices, or house sizes. But only add a few search fields – too many and it will confuse the searcher.
Consider a search result page displaying a map and property lists. People will love to see the property's location while browsing the lists.
On the Home page, add Testimonials and Reviews: Customer reviews and testimonials add credibility and trustworthiness.
Add links to the agency's or agent's social media profiles for more engagement.
There are many other things you need to consider – the above list is a starting point, and add or remove functionality according to your needs.
Importance of responsive and mobile-friendly design.
Having a responsive and mobile-friendly design for a website is like making sure your website is available for all types of visitors. Today, many people use their phones or tablets to browse the internet.
They might be checking websites while waiting for a bus, during lunch breaks, or on their couch at home. People using any device want a smooth experience on a website.
🤖Search Engines focus on website's mobile version
Search Engines prioritizes mobile-friendly design, ensuring seamless user experience on smartphones. It emphasizes speed, simplicity, and functionality across various applications and search engine optimization.
If a website doesn't look good or work well on a mobile device, it can frustrate visitors. They might leave and not come back.
Imagine if a store's door was too narrow, and some people struggled to get in; they might give up and walk away. Similarly, a non-responsive website makes things hard for mobile users to read or click on.
Also, search engines like Google want to show users the best sites. If a website is not mobile-friendly, Google might show it lower in search results. Fewer people might find and visit the site.
Key Features for a MLS Website
Now that you have an idea about what your website looks it's time to discuss the main functionalities of a real estate website.
MLS Property Search
The property search should be the main functionality of your website. And it would help if you treated it accordingly. It's important to offer all the search fields a visitor may look for, but at the same time, you don't want to exaggerate.
If you do a little research on all major real estate portals, you may notice the following.
On the homepage, they have a simple form. Something like "Enter an address, city, or zip code." They don't want to overwhelm users with too many fields or sliders. The goal is to encourage visitors to make a fast search.
On the result page – they show the properties list in the grid or list format but always display the price in the prominent place. That is because the price is the most important feature of a property.
The cards display the feature image and other important details – like beds, baths, and property size .- Nothing else. The design is not overcrowded with things like bath size, agent name, garage details, etc. – Those are not important at this point – buyers will find them on the actual property page.
Split the screen in two and add an interactive map. Users love to see where a property is located. If they are interested in a specific zone, they will use the map to go over the listing in the area.
On the result page, add additional search features, but do NOT exaggerate: price, beds, baths, and home types should be enough.
The Property page
A well-designed property page plays a key role in capturing the interest of potential buyers or renters. While there are many design options, there are some things that should be present on that page.
Here is a checklist to follow.
High-Quality Images: Showcase the property from various angles, both interior and exterior.
Virtual Tours: Allow users to experience the property 360 degrees or through video walkthroughs.
Detailed Property Description: Include square footage, number of rooms, year built, renovations, and unique features.
Price: Clearly list the asking price or rental rate.
Location: Offer a map view, proximity to landmarks, and neighborhood insights.
Agent/Owner Contact Information: Provide precise details for immediate inquiries. Have a contact/schedule visit form on that page.
Interactive Floor Plans: Enable users to understand the property layout.
Amenities & Features List: Highlight features like swimming pools, fireplaces, garages, etc.
Energy Efficiency Ratings: If applicable, give details on the property's energy-saving features.
Document Downloads: Allow potential buyers to download property details, brochures, or floor plans.
Reviews & Testimonials: If previous buyers or renters have given feedback.
Social Media Sharing: Buttons for users to share the listing on their social platforms.
Mortgage Calculator: Help potential buyers estimate their monthly payments.
Availability Status: Indicate if the property is available, pending, or sold.
Local Schools & Amenities: Details on nearby schools, parks, shopping, and other amenities.
Safety and Crime Statistics: If possible, offer insights on neighborhood safety.
Booking Viewings: An option to schedule a visit.
Similar Listings: Showcase similar properties to keep users engaged if the current one isn't a perfect fit.
Feedback Form: Allow users to ask questions or give feedback on the property.
Mobile Optimization: Ensure the property page is easily viewable on all devices.
✌️Wpresidence Theme Has Nine Predefined Layouts
If you are planing to build a website with WordPress you should consider WpResidence Real Estate Theme. If has Seven Predefined Property page layouts that you can customize.
The main goal of a property page is to provide comprehensive information about the property while making it easy for potential buyers or renters to take the next step, whether scheduling a viewing or contacting the agent.
Agent profiles and contact forms
Agent profiles are essential in bridging trust and communication between potential buyers or sellers and professionals.
These profiles showcase an agent's experience, past sales, reviews, and specialties. Accompanied by a high-quality photo and often a brief bio, they humanize the property listing, giving users confidence in who they're dealing with.
Additionally, contact forms adjacent to these profiles facilitate communication. Instead of resorting to external means, users can quickly inquire about a property or request a viewing. This immediate connection enables quicker response times, benefiting both the agent seeking leads and the user wanting property information.
👌 Pro Tip
Make sure the contact forms messages also go into a CRM database and not only email. For example, you can use HubSpot CRM, which has a free package for the essential tools!
Also, you should add a contact form on the property details page. You don't want visitors to go to another page to send an inquiry.
Use social media and things like WhatsApp up buttons or click on the phone. If a visitor is viewing that page on mobile, it will be much faster to get in contact.
Featured listings section
The "Featured Listings" section on a real estate website highlights select properties that deserve special attention. Whether newly available, uniquely designed, or priced to sell quickly, these listings are showcased prominently on the home page.
This section is particular to company or agent websites and not big portals like Zillow.com. The realtors will use this section to showcase listings with a specific interest or are very attractive to buyers.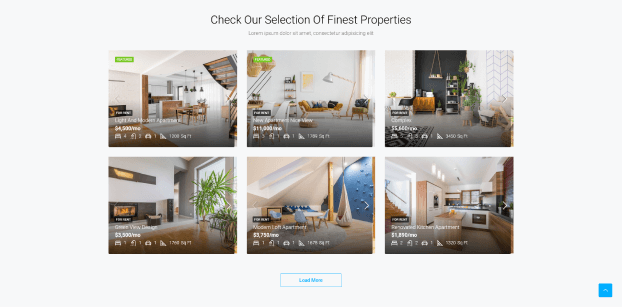 This section benefits sellers by giving their properties increased visibility and potential buyers by providing a curated selection of noteworthy homes.
Often accompanied by high-quality photos and essential details, featured listings aim to entice and engage users immediately upon visiting the site.
For real estate professionals, this section is a strategic tool to promote specific properties or draw attention to premium listings, ultimately enhancing user engagement and potential leads.
The Blog section
The blog section with market insights and updates is a valuable resource on a real estate website. It offers readers timely information on housing trends, price fluctuations, and industry news.
Written by experts or guest contributors, these articles help potential buyers and sellers make informed decisions. They cover topics like emerging neighborhoods, investment opportunities, or home improvement tips.
✍️ Pro Tip
Blogging showcases expertise, builds trust, and enhances online visibility. Consistent, relevant content attracts potential clients, fostering relationships and establishing credibility in your industry!
For regular visitors, this section becomes a go-to source for staying updated with the ever-changing property market. Moreover, it enhances the website's credibility, showcasing the company's expertise and dedication to educating its audience. A regularly updated blog boosts website traffic, benefiting users and the business.
Integrating MLS with IDX or RESO Rest API
IDX (Internet Data Exchange) and RESO Web API are tools in the real estate world that help share and display property listings.
IDX is an older way of doing things and uses various methods to fetch and show property data. It has been around for a while and was a popular way for brokerages to share listings.
On the other hand, the RESO Web API is a newer approach developed by the Real Estate Standards Organization. It's a more modern approach, designed to work efficiently with today's tech-savvy applications and websites.
It uses a streamlined method to get and show real estate information. RESO Web API access property details quicker and more standardized.
In contrast, IDX might be less consistent because of the different ways it gets data. As the industry keeps evolving, many are leaning towards using the RESO Web API because it's a more up-to-date and effective tool for real estate data needs.
How to integrate MLS data using IDX or Reso Rest API
Integrating MLS data into a website or application using IDX or the RESO Web API involves several steps. Here's a general guideline for both:
Integrating with IDX:
Permission & Agreement: Before you start, ensure you have permission from the MLS to use their data.
Choose an IDX Solution: There are various IDX providers or plugins available, such as iHomefinder, IDX Broker, and others. Choose one that fits your platform (like WordPress, Wix, etc.) and your needs.
Installation: Install the IDX plugin or solution onto your platform. For many platforms, it's as simple as installing a new plugin.
Configuration: Once installed, configure the plugin. It might involve entering API keys, setting up initial data sync, or specifying which listings or types you want to display.
Design & Layout: Customize the look and feel of your listings to match your website design. Most IDX solutions offer various customization options but not customized designs.
Ongoing Maintenance: Regularly update the plugin and ensure data syncing works correctly. Monitor for any changes in MLS terms or conditions.
Integrating with RESO Web API:
Permission & Agreement: As with IDX, you'll need the MLS's approval to access their data using the RESO Web API.
Obtain an API Key: Once approved, the MLS will typically provide you with an API key, which grants your system access to their data.
Choose a RESO Web API Plugin: If you use a popular CMS like WordPress, you can use plugins like MLSIMport or Realtyna WPL.
Installation: Install the RESO Web API plugin or solution to your platform.
Configuration: Enter the provided API key and set up the initial data sync. Configure any other essential settings as per your requirements.
Customization: Adapt the appearance of the listings to align with your website or application's aesthetics.
Regular Updates: Ensure that the RESO Web API integration is always up-to-date. Monitor any changes in MLS rules or the RESO standards.
Choosing the right IDX/RESO API provider
The right provider/plugin should ensure data accuracy and compliance and can influence the user experience on your platform.
Before diving into your search, clearly understand what you need. Are you building a niche real estate website, a broad portal, or something else? Your requirements will shape your choice.
Check how frequently the provider updates their data. Having updated and accurate listings is paramount in the fast-paced real estate market.
Does the provider cover the MLSs relevant to your target market? Some providers have comprehensive national coverage, while others specialize in specific regions.
✌️ Do you want to build a MLS Website?
Here are three demo website built with WordPress,WpResidence Theme and MLSImpport. Import thousands of MLS listings on your website.
Very Important: Your provider should offer flexibility regarding data access and customization. Can you choose which data fields you want? Can the data be easily integrated into your existing design and UI? Can you make a fantastic design with that solution?
Good customer support can save you hours of troubleshooting. Make sure the provider offers comprehensive documentation, tutorials, and responsive customer support.
Last but not least – Consider the pricing model. Some providers charge based on data access frequency, while others have a flat fee. Analyze the cost against the features offered to see if it provides good value for money. If they have a free trial option – try those solutions first.
Maintaining and Updating an MLS Real Estate Website
Maintaining and updating a real estate website is crucial for providing the best experience to users and staying relevant in the market.
This task looks simple, and most of the time it is. However, there are moments when technical knowledge is required, so It will be best to have a specialized team to do this.
Here's what needs to be on regular basics :
Scheduled MLS Checks: Set specific days or times to review MLS listings. Outdated or incorrect listings can mislead potential buyers. Make sure every detail, from price to property photos, is current.
Performance Checks: Websites can sometimes slow down or face issues. Use online tools to check the site's speed regularly. If it's slow, find out why. Maybe a large image or a piece of code is causing the problem.
Update Plugins(when using platforms like WordPress): Plugins add features to a website. But old or outdated ones can cause issues or security risks. Set a monthly reminder to check for plugin updates. When there's an update, install it.
Theme Updates(when using platforms like WordPress): The theme dictates how the website looks. Like plugins, themes also receive updates. Make sure to install these updates. They often fix bugs or make the site work better.
Backup Regularly: Before making any major changes or updates, always back up the website. If something goes wrong, this backup will be a lifesaver.
Test After Updates: Test the website every time an update is done. Make sure everything works: the links, the images, and especially the MLS listings.
Feedback Loop: Allow users to report issues. Sometimes, they'll spot problems that might be missed otherwise. Have a simple form or contact link where they can report glitches.
Stay Informed: Subscribe to news from plugin developers or the theme creator. They often announce major changes or potential issues.
In short, think of a website like a car. It needs regular check-ups, occasional fixes, and updates to keep it running smoothly.
SEO and Online Marketing
The real estate market is incredibly competitive, especially within bustling urban areas. Everyone is fighting for a piece of the market, from independent agents hustling to secure their next client to vast nationwide enterprises.
The silver lining is that you're not up against the countless agents globally. Since real estate is inherently local, your real competition is only with those in your area.
Naturally, in particular prime locations, even local competition can be intense. But the key is leveraging local SEO, ensuring you stand out.
On-page SEO best practices for real estate websites.
On-page SEO refers to optimizing individual web pages, including their content and HTML source code, to rank higher and earn more relevant clicks from search engines.
It focuses on title tags, meta descriptions, headers, content quality, keyword usage, and internal linking – It is something you can do to your site to rank higher.
Here is a basic checklist:
Target the right local Keywords – do keyword research and find the one that matches your location and real estate profile.
Make your website work well on phones and tablets. Most buyers look for homes on these devices.
Use familiar words in titles and descriptions that people type when searching for homes in specific cities.
Post clear, bright pictures of houses. Describe them briefly with important keywords.
Mention local words on your site to help people find homes in your area.
Put your location in the webpage titles and descriptions. This helps search engines show your site to those looking for houses nearby.
Get reviews from happy clients. After selling a house, email the buyer and ask for feedback.
Offer virtual home tours. The 3D tours let people see houses closely online and bring more visitors to your site.
Look for and fix repeated content and links that don't work.
Make sure your website is secure with HTTPS.
Give Google your site's map via Google webmaster tools.
Importance of local SEO.
Real estate local SEO is about helping property businesses appear in search engine results when people nearby are looking for homes or real estate services.
Imagine someone types "houses for sale near me" into Google. If you're a realtor in their area, you'd want to be one of the first names they see. That's what local SEO does.
One way to do this is to make sure your website mentions the areas you serve a lot. It will help search engines know where you operate.
Also, adding your business to local online directories and getting reviews from past clients can help boost your local presence.
Another big part is having your business details like name, address, and phone number consistent everywhere online.
Engage Socially
While social media might not directly influence search engine rankings, it remains a cornerstone of a successful online strategy. It's an avenue to:
Engage with your target demographic.
Broaden your reach.
Establish credibility and trust.
Redirect traffic to your site.
Boost conversions.
Creating a social presence on every platform might seem like the best thing, but it's a better strategy to select a few and excel there.
Besides Facebook, platforms like Instagram, Twitter, and Pinterest are valuable. Share content, news, statistics, and more across these channels.
Platforms like Instagram and Pinterest are very effective for visually driven content. Highlight special property deals on Facebook, and always ensure local-focused descriptions and keywords accompany your posts.
Compliance and Regulations
Compliance and regulations are important in real estate, especially concerning MLS data. But, displaying this data comes with specific rules.
There are guidelines for how MLS information can be shown at both local and national levels. Why? It's to make sure everyone is on a level playing field and that potential buyers or sellers get accurate details.
It would be best to keep an eye on local and national regulations. Organizations often release updates about any rule changes. It's essential to be part of these groups or subscribe to their notifications.
Every once in a while, review your website. Are all property listings displayed correctly? Do they meet the current guidelines?
If a rule changes, the website might need a tweak. It could be in how listings are displayed or the site's terms of use or privacy policy.
Everyone involved, from agents to web developers, should understand these rules. Regular training sessions help.
Also, Having a compliance expert or legal advisor to consult might be a good idea. And keep in touch with the web developers – you don't know when you will need someone to help you with technical stuff.
Conclusion and Future Trends for MLS Websites
The world of online real estate marketing is changing fast. Gone are the days when simply having a website was enough. Today, technology and customer demands are shaping a new landscape for the industry.
MLS systems, the backbone for many real estate websites, are becoming more innovative. They now offer more than just property listings. Advanced filtering, virtual tours, and interactive neighborhood insights are just a few examples. These systems can predict what buyers want, making house hunting more efficient.
But what's coming next? Here are some predictions:
Virtual Reality (VR): House tours might not need physical visits soon. With VR, potential buyers might explore homes from their living rooms, experiencing each room as if they were there.
Artificial Intelligence (AI): AI can analyze buyer behavior and predict preferred properties. Imagine a website suggesting homes based on a user's online activity, past searches, or social media likes.
Neighborhood Drones: Interested in a property but want a bird's eye view of the neighborhood? Drones could offer virtual neighborhood tours, showing parks, shops, and more.
The future of online real estate marketing looks exciting. As technology evolves, buying or selling a home online will become a more efficient and personalized experience. The key for real estate professionals is to stay updated and adapt to these changes.