Creating a site using Real Homes and IDX is something many realtors try to achieve. This theme has a tremendous success on ThemeForest and comes with a classic look that is appreciated by many realtors. Although it is not that feature-rich as the WpResidence or Houzez themes, it is still an excellent software product that can be used with IDX /RESO to build a successful website.
We will not talk about how we are doing the import on Real Homes but explain how things get organized after that, and we will go through the main sections of this theme.
Before reading this article, you can check the demo made with this theme and MLS Import (sample data). You also need to be aware that before building your website, you need to buy this theme from ThemeForest and enlist in your MLS Association (you may need to pay a pass-through fee to them).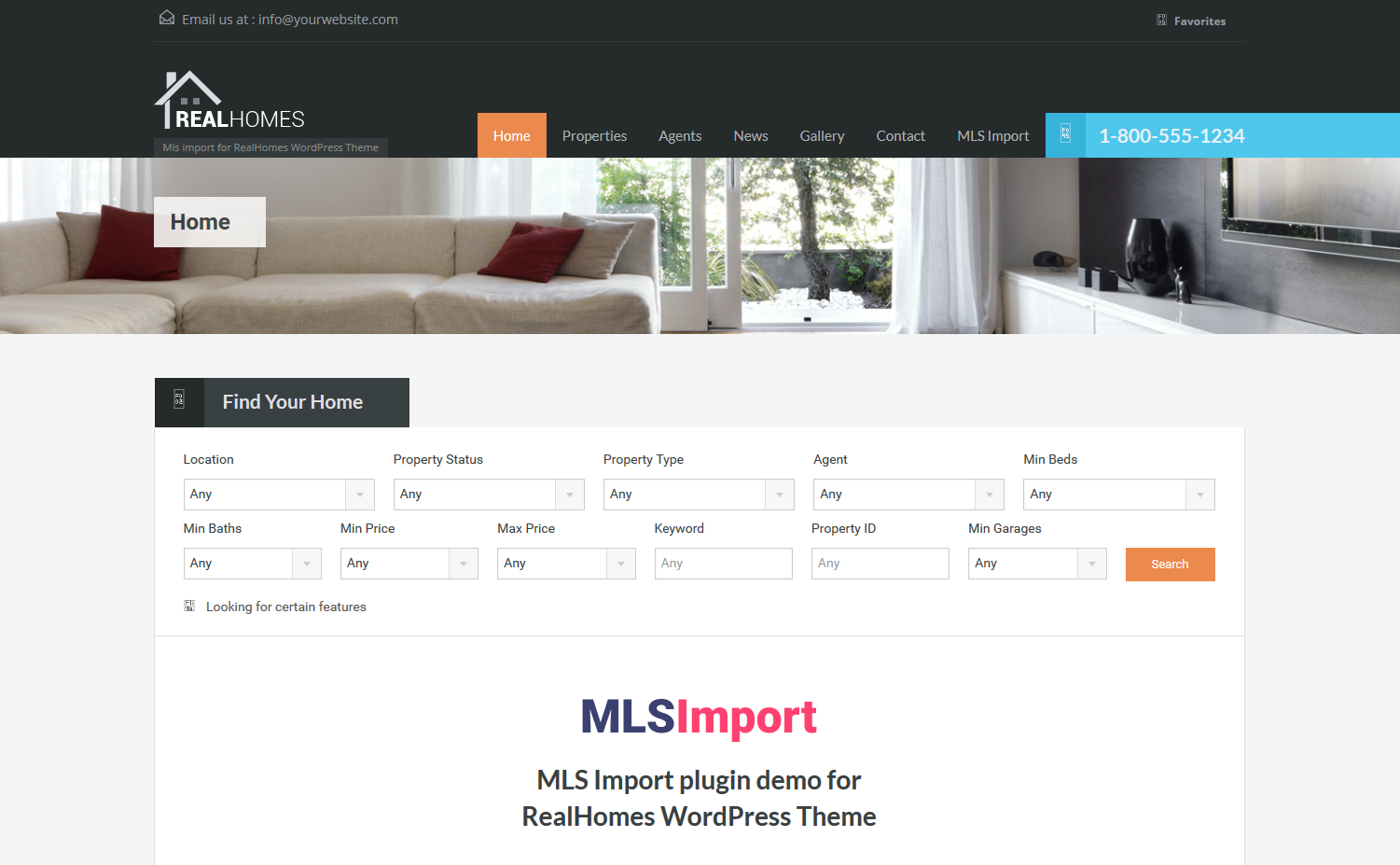 Setup and Import
As we explained above, before doing any import, you will need to buy and install this theme. See here the theme manual.
After you install the theme and import and demo content, we will take over and install our plugin. We will need you to choose what type of listings you want to import, but that's a simple task you do after our setup process.
Before importing, you will be able to choose what categories of listings you want to import, from what counties or cities, and also pick a price range. Once you make these choices, we can proceed with the import.
Since you may want to import thousands of listings, we will be the ones that supervise the import and make sure everything works as expected. Also, if you plan to import a significant number of properties, you may need to have good hosting (at least a VPS).
Post Type, taxonomies and agents
In the Real Homes theme, the properties save as a custom post type called "property." The imported listings will act just like the ones added from the theme interface. And that means you will be able to see & edit them from the WordPress admin area.
There are also four taxonomies, and the properties list to the right category. However, please note that we are not using the Property Status taxonomy because it does not work with the RESO standards.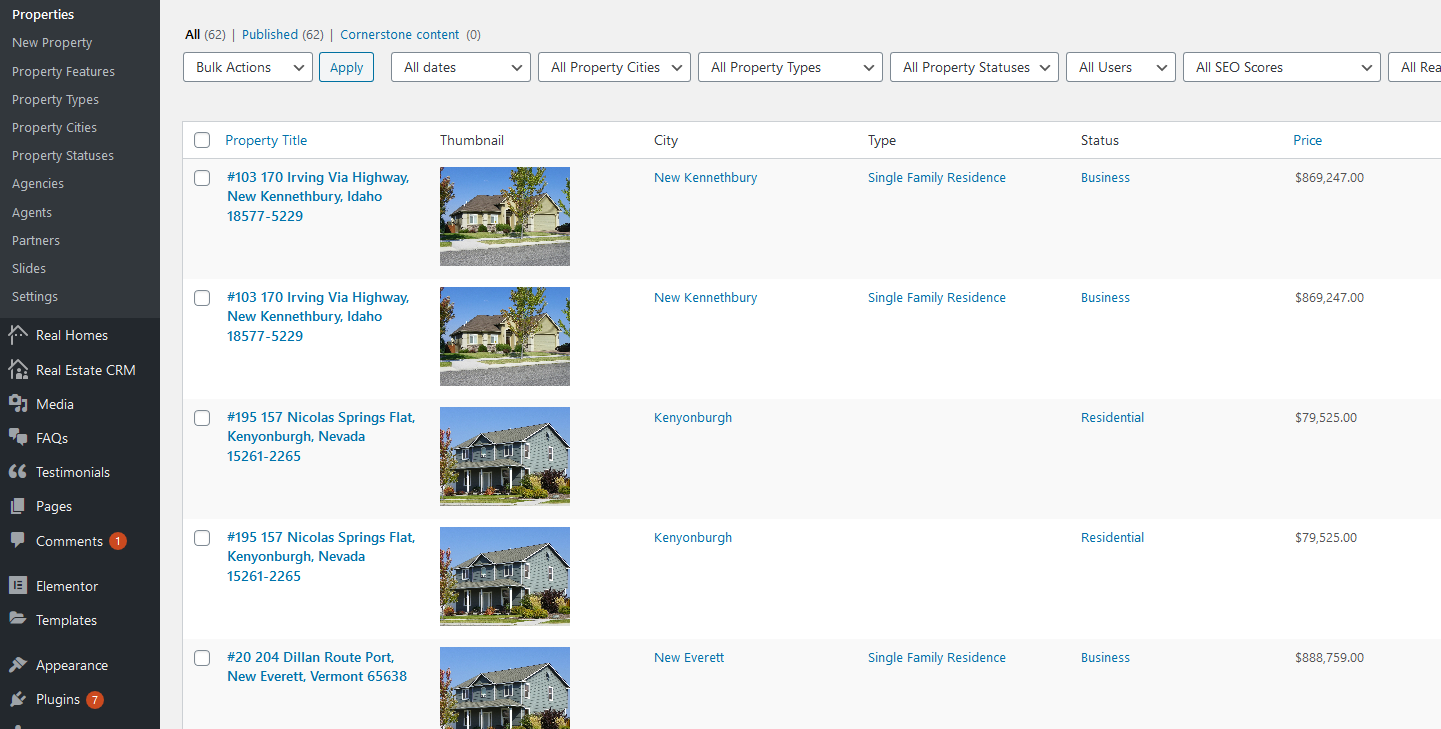 Real Homes and IDX / Reso fields
Properties in an MLS database have a lot of data. Maybe too much data. So during the setup process, you will be able to select what properties fields you want to import. These fields save as a post meta called REAL_HOMES_additional_details (all the data is saved like an array).
You will see these details on both the front end property page but also in the WordPress admin area. You will be able to change the data, but because it saves in single post meta, you will not be able to use it on search (so far only WpResidence theme can do that).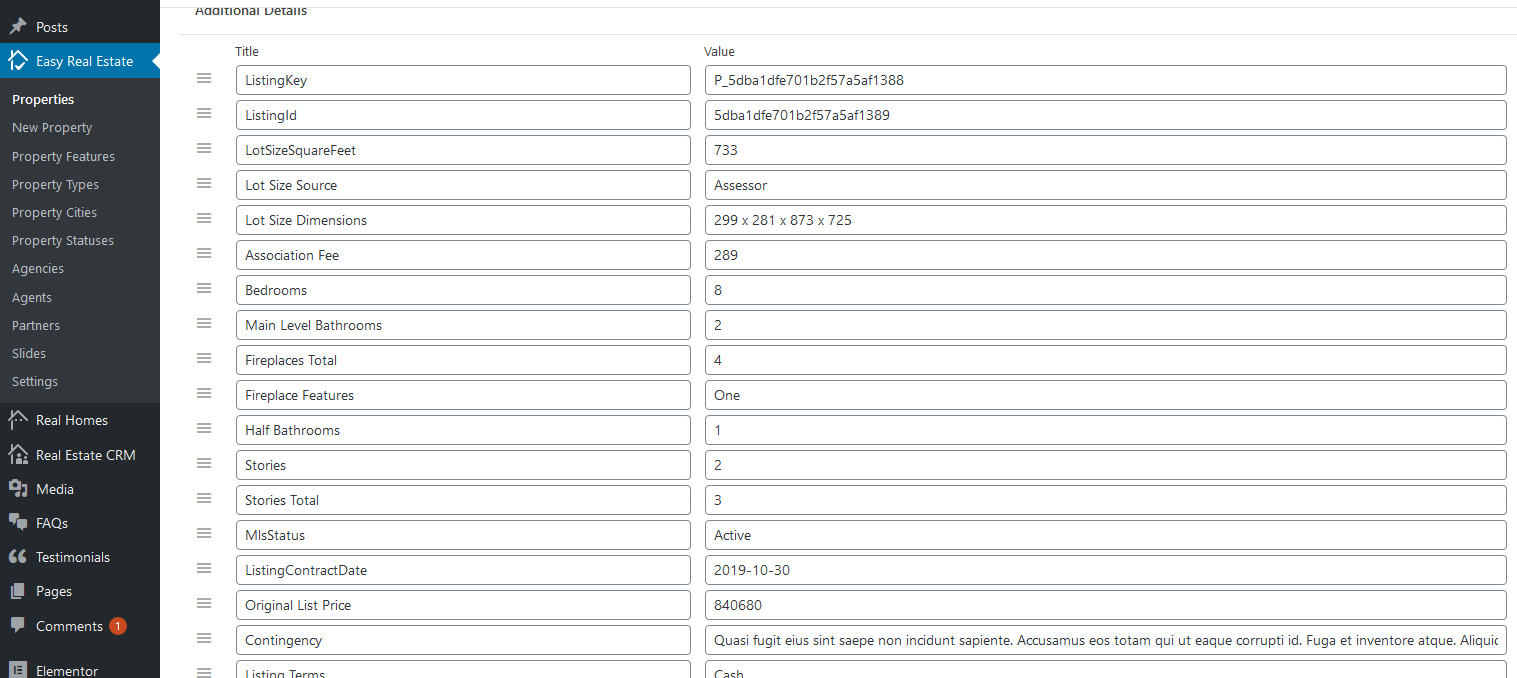 Property Lists and Property Page
If you want to create a property list page, go in the admin area and create a new page with the template "Property list." WordPress will create a page where your listings present in a grid or list view.
And of course, you will be able to choose what kind of listings you want to appear. Ex: only Apartments from Austin. However, there is no ajax filtering, and you only have a "sort by" select option that will refresh the page.
You also have a few alternatives regarding the property slider. You can choose between a default layout, a thumbs gallery, or a full-width layout.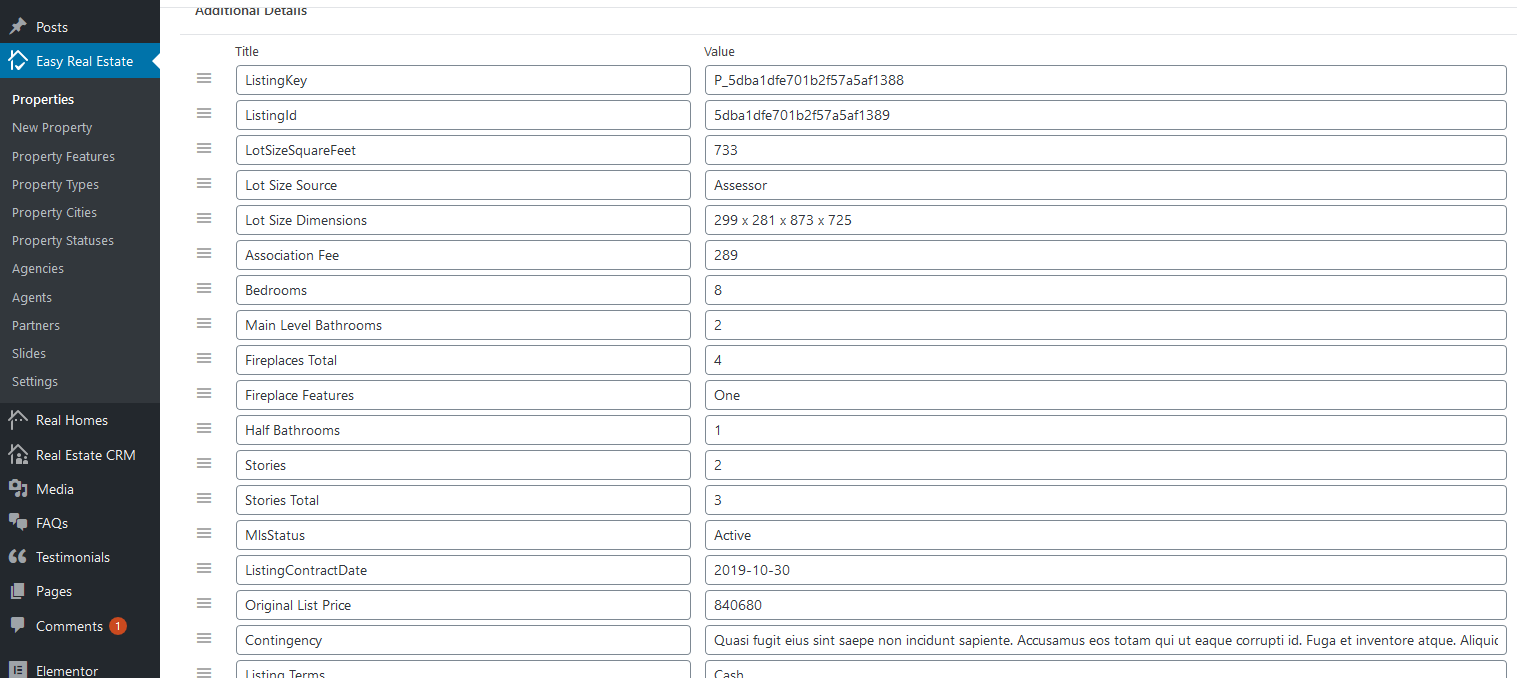 Features and amenities
This special category is also present in the Real Homes theme (it is called Property Features). You can see all the imported terms in the special section on the property page and, of course, in the admin area.
Same as in Wp Residence and Houzez, you will be able to use these terms in the search form, and WordPress will generate pages for each one of terms: you will have pages with listings that have a particular feature.
Images
As you can imagine, some of the imported listings have many photos. Having many photos can help with a sale, but they are a burden for your server. If you import ten thousand listings, you can end up with more than 100k images.
However, MLS Import has a solution to this challenge: we add the images into the database as regular entries, but we are not saving the actual files on your hosting account. Instead, we use the image paths from the MLS content delivery network.
Using this solution, you will be able to use theme features like slider or shortcodes but at the same time have a page that is loading fast and a server that is not overloaded by too many images.
Shortcodes
The latest version of the Real Homes theme focuses on Elementor Blocks. In case you don't know Elementor, it is one of the most successful visual builders in the WordPress ecosystem.
Since we imported the listings in your local database, you will be able to use any of these blocks and build custom page templates.
Maps
Real Homes have integrated two main map providers: Google Maps (a superior, but not free system) and Open Street Map (a free version).
There is only the option for markers: to use image pins, and this can create a speed problem when you have many listings on the map.
Edit and Delete of the MLS listings
Once the setup is done, the MLS Import will go into autopilot. That means it will query the MLS database every hour, and if a new property is added, it will import in your theme too. The same thing will happen if the property is just edited.
If the property status is changed to "expired," "canceled," etc. it would delete that listing along with any image database entries.
Road Map
If you decide to build a website using Real Homes theme and MLS import, then you need the following
Check with us if your MLS is RESO compatible and register with them in case you did not do that already.
Get a domain name
Get a hosting package. If you plan to have thousands of listings, get at least a Virtual private server.
Buy the theme from ThemeForest
Install that theme and maybe import a demo content package
Send us your MLS connection details and server connection details
We will do the actual import and put the site on autopilot.
Useful Links
Demo with Real Homes and MLS Import (demo data)
List of MLS  supported by MLS Import
How to integrate WpResidence with IDX / RESO