Using Houzez with IDX can be a challenge if you try to build a nice looking website. Most of the IDX plugins offer only iframe solutions that will ruin this theme design and will stop you using the advanced features. We built MLS Import having all these  shortcomings in our mind. And we think our product solved all these problems.
Houzez is a successful real estate theme that has a big list of features, a nice design, and can be an excellent solution for an IDX  / MLS real estate website.
This article will give you a few details about how you can integrate listings from your MLS into a WordPress website that uses the Houzez theme. We will not cover the actual import but explain how imported data is stored and how you can use it.
Before reading the article, you can look over our demo and see this theme working with some sample MLS data imported via our plugin.
If you want to build your MLS website with Houzez and IDX / MLS import, then you need to buy this theme from Theme Forest.  After you purchase the theme, you need to install it and maybe import a demo package.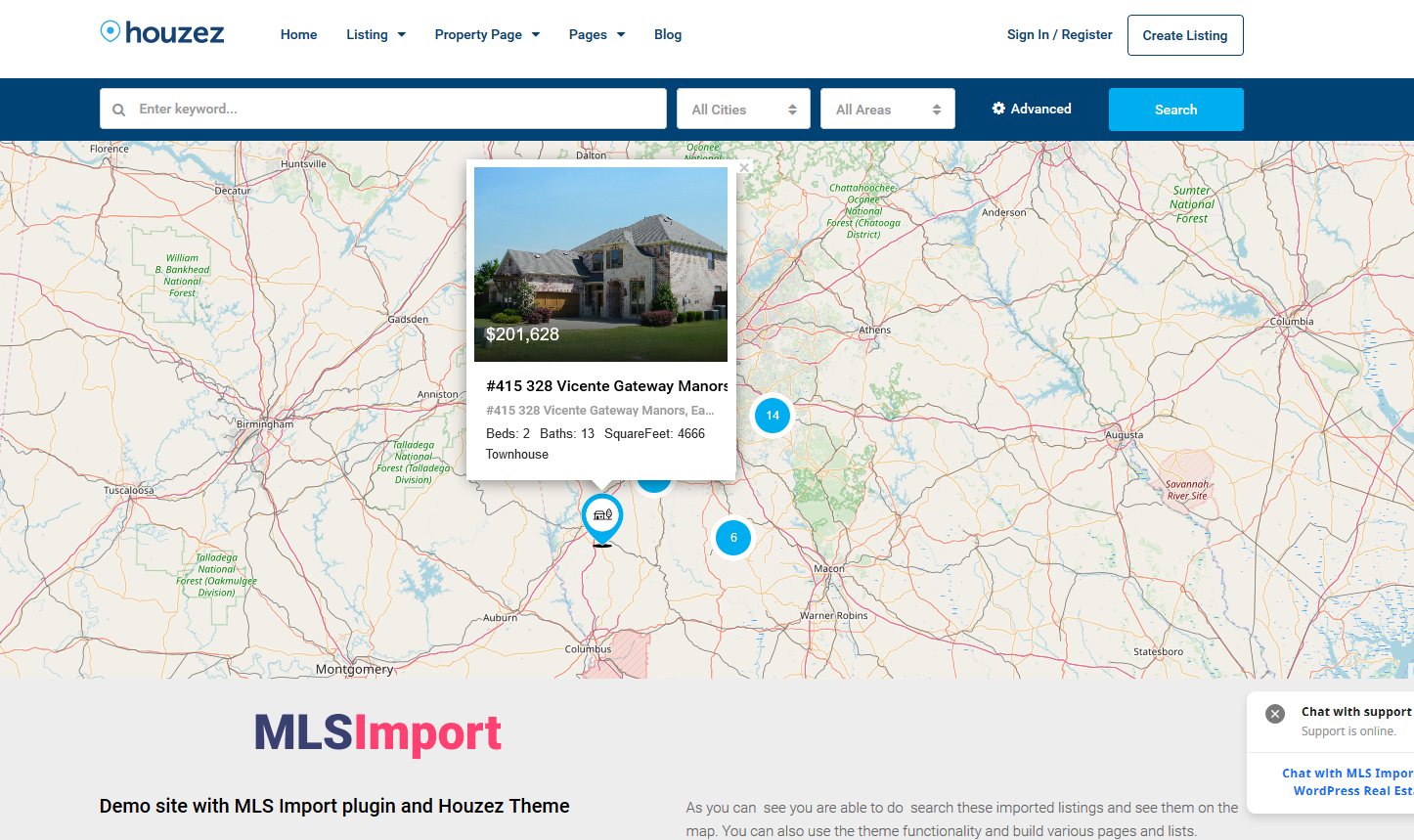 Setup and Import
Once the theme is installed and activated, our team will start the importing process. You may want to import thousands of listings, and because of that, we are supervising the import process.
Before starting to get data, we will ask you to review the plugin settings and choose what type of properties you want to get. You have the option to choose the price, city, county, price, or property category.
You can find more details about the installation process here: https://mlsimport.com/mls-import-installation/.
Post type, taxonomies, and agents
In Houzez theme, all the listings will be imported as a custom post type named: "property." That means you will be able to see and use the imported listings, just like any other manually added post.
This theme has several taxonomies (categories), and we use all except Status and Labels.
We do not use Status because we only work with "Active" listings while "Labels" is not used because there is no such thing in MLS RESO standards.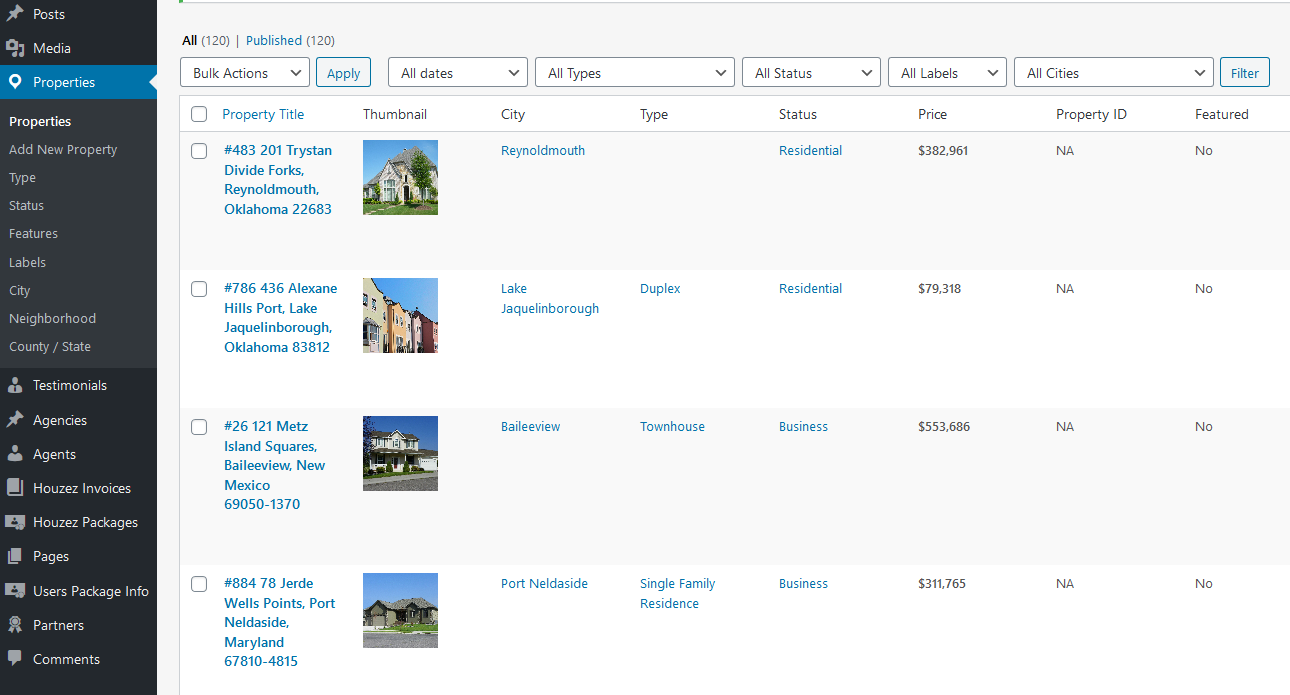 Houzez and IDX / RESO fields
As you probably know, any MLS database can have a lot of information about a property. It is not uncommon to have 3 to 400 listings data fields for each property.
All this data is saved like an array, and this array is saved as single metadata for the property. Unfortunately, this means you will not be able to use these fields on search, but they will be displayed on the property page.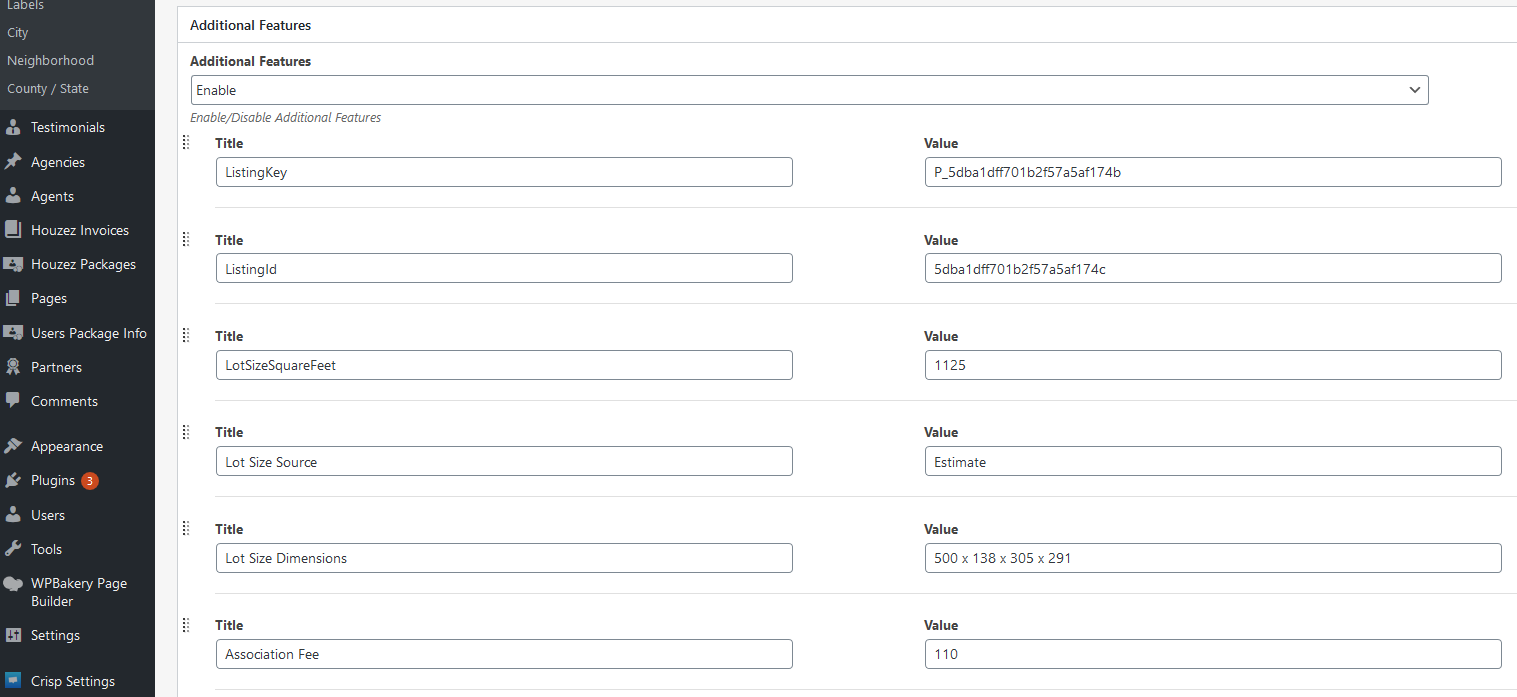 Property Lists and Property page
Houzez has several options for the property page. There are four layouts to choose from, and you can show the content like tabs or accordions.
You can also create various property lists and show only listings from a specific county, city, or category. All you need to do is to create a page with the template "Property list template." You will find that the "Property listing advanced options" section is filled with imported data.
All the pages come with some nice ajax filters that can be used by visitors when searching for a particular category.
Unlike the WpResidence theme, there is no "build your own" property page, but I think you have plenty of options to choose from.
Features and Amenities
Just like in Wp Residence, the features and amenities are saved as a category. It means that a property has or does not have a term that is listed in the "Features " category.
When we import we make sure that the right data goes into this category and that all the available information is displayed on a property page in the "Features" section
Images
Having thousands of listings on your site is excellent, but that means you will also have ten more time images. And if you want to save those on your server, you will need a lot of storage and computing power.
Fortunately, Mls Import has an excellent workaround for this problem. We are saving the images as simple entries into a database, but we do not copy the images locally.
We keep using the images from the MLS Content Delivery Network and save a lot of space on your server, improve speed on your website and allow you to use all the theme features sliders or image features.
Shortcodes
Just like any other successful theme, Houzez comes with plenty of shortcodes. You have ready to use blocks for Visual Composer and Elementor, but you don't have for Guttenberg. All the imported listings will work in any scenario.
There is one setback here, and this is not related to MLS Import. Some shortcodes may need big images, but not all systems will have that. So, it is up to you to choose the best properties.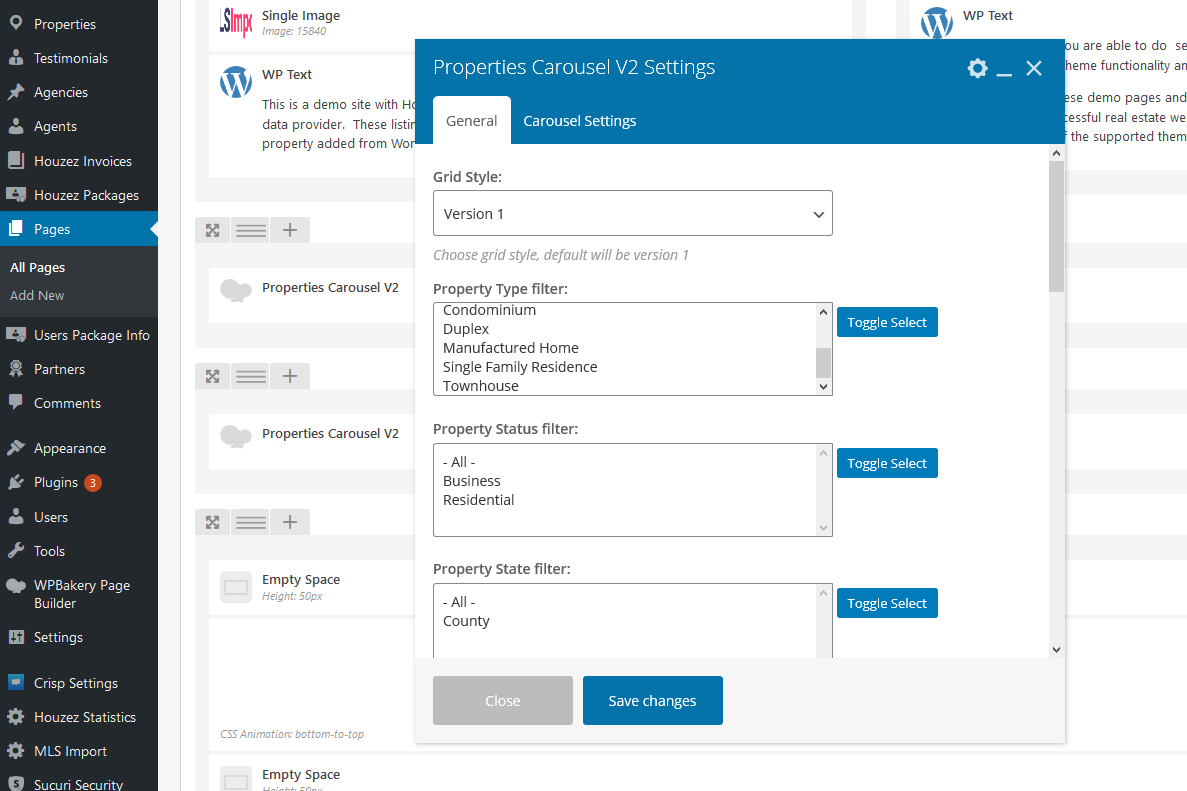 Maps
This theme comes with two maps, Google and Open Street Maps. Since you have all the listings locally, you will be able to use those providers but also use one of the 2 types of markers available: price or icon.
Custom Development Services
If you need custom development services, digital marketing, branding, or site maintenance and you're not sure which company to hire, check Glide Design services.
Edit and delete of the MLS Listings
Once our plugin is installed and activated, you don't have to do anything. MLS import will check your provider database every hour, and if a new property appears, it will import it. If a listing was edited, it will get and save all the latest details.
If a property will have its status changed to "canceled," "expired," etc. it would delete that from your local database along with any image database entries.
Road Map
If you want to build your site using Houzez theme and MLS Import, these are the steps to follow.
Contact us in and see if your MLS is compatible with RESO standards
Buy your domain name.
Get your site hosted. If you want to import more than 1000 listings, you will need a good provider, preferably a virtual private server
Buy the theme from Theme Forest
Install the theme and import some demo content
Register with your MLS and send us the connection details along with your hosting credentials
We will do the import and put the plugin on autopilot. Editing, deleting,, and adding new listings will happen automatically.
Here are some useful links
Buy the Houzez theme from here
Demo with Houzez and MLS Import (sample data)
List of MLS supported by MLS Import