The world of real estate is constantly evolving, and having a solid online presence is more important than ever. One of the best ways to showcase your listings and connect with potential buyers and sellers is through a website built on the WordPress platform. Before picking up a plugin you may want to understand what is a Multiple listing service and how it works.
There are several ways you can add data from your MLS database on your website:
Do an import
While this process may require more time, it can offer endless possibilities for your website. It all starts with the right plugin that connects to the MLS and gets the data and the media.
This may take a few minutes to a couple of hours, but once you get all the data locally, you can showcase it, filter it or search any way you like it. And, if you are using a professional real estate theme, then the sky is the limit.
Use an Iframe
This is an old-school tech. But it is the simplest way. First, you get a plugin and fill in the connection details. Once this is done, you will use a shortcode provided by the plugin to display the listings.
It is straightforward but very limited. And in 90% of the cases, the design of the shortcode is like from twenty years ago. Moreover, you have few options regarding the look and feel since an iframe is used.
The same goes for other features: you cannot do custom pages, filters, or searches.
Custom Coding
In this case, a software company will create a particular script (based on RESO API ) that will connect directly to the MLS database and do a special import or simply display the data. You can do anything that crosses your mind; however, you can expect costs from 10k+.
Since the WordPress world is so big, we have various MLS WordPress plugins available to help you create a professional and user-friendly website.
MlsImport Worpdress plugin: This is the only WordPress plugin that lets you import and manage thousands of listings. It works with the best real estate themes on the market, like WpResidence, Houzez, and RealHomes, and is extremely easy to set up once you have the MLS connection details.
You can set up various import processes (like import apartments with prices between 200k and 500k from Austin), and the plugin will populate your website database. Furthermore, the plugin will continue to synchronize your website with the MLS database and update the properties data or delete a listing if that's the case.
Another significant advantage is that it works with themes like WpResidence. This WordPress theme has state-of-the-art ready-to-use demos that you can use as a starting point for your website. Also, you can customize your website via the admin interface and the drag-and-drop widgets for Elementor.
Go here to see a demo made with MlsImport and WpResidence Theme : https://oakland.wpresidence.net/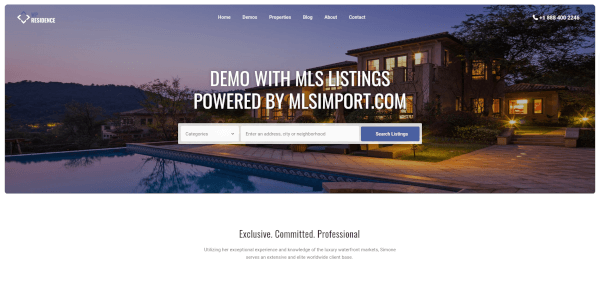 IDX Broker: This plugin lets you easily integrate MLS listings into your site, giving visitors access to thousands of properties without leaving your site. You can also use a variety of customization options and lead-capture tools.
IDX Broker provides several crucial features, including customizable search forms and results pages, lead capture tools, and mobile-responsive designs. Additionally, the plugins offer a variety of integrations with popular real estate software tools such as customer relationship management (CRM) systems, email marketing platforms, and social media tools.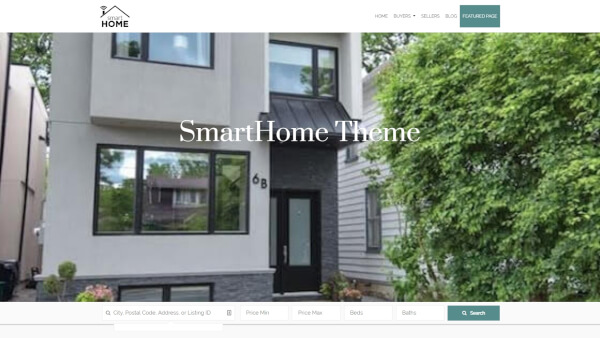 WPL Real Estate plugin: The WPL Real Estate plugin, also known as Realtyna Organic IDX, is a free WordPress plugin that provides a convenient solution for real estate websites to manage and add properties while offering access management and memberships for users.
For even more advanced features, a premium version called WPL Pro is available, which includes features such as location auto-suggest, customizable design, and the ability to insert metadata and tags in property listings.
One notable feature of the WPL Real Estate plugin is its ability to seamlessly integrate with any Real Estate Transaction Standard (RETS)-based MLS providers in North America. Additionally, it comes with an Add Listing Wizard that makes it easy for administrators to control how listings are displayed on the site.
Estatik Pro: Estatik Pro is a top-tier property management WordPress plugin that provides the ideal solution for building any real estate website: from a single agent site to a complete real estate portal.
This plugin lets you import MLS listings through RETS and RESO Web API.
One of the standout features of this plugin is that it empowers real estate agents to create profiles, wishlists, and saved searches and even sign up for email alerts for listings that match their saved searches, all within your website.
Furthermore, Estatik Pro allows administrators to create custom fields and add as much information about their listings as they want, thanks to the included Fields Builder. It is also compatible with five premium real estate themes, providing a wide range of design options for the website.
SimplyRets: The SimplyRETS plugin enables real estate brokers to display listing and market data from their MLS on their real estate websites. Users must have a SimplyRETS account to import these MLS listings, which incurs a monthly fee.
With the SimplyRETS plugin, brokers can exercise complete control over which listings appear on their websites and where they appear.
Additionally, the plugin provides several widgets for showcasing featured listings, search forms, random listings, and more in the sidebar or footer.
One of the notable features of SimplyRETS is its ability to import listings from multiple MLSs.
The plugin also offers various widgets, including search forms, featured listings, random listings, and agent listings. Moreover, the plugin is compatible with most themes as it generates and embeds HTML instead of iFrames.