What is the Austin Board of Realtors and ACTRIS?
Texas is among the top 3 states for global real estate demand. The Austin Board of Realtors (ABoR) is one of the most innovative real estate association that has been serving the needs of Central Texas REALTORS® and homebuyers, sellers, and renters for nearly a century. 
ABoR connects you to over 14,000 real estate professionals in the Austin area and beyond.
ABoR promotes private property rights and provides accurate, comprehensive property listing information for Central Texas.  The ABoR connects Realtors to useful resources and educational opportunities. 
ACTRIS is the ABoR MLS that is the primary MLS for the Greater Austin and Metro Areas.
The Austin Board of Realtors states ACTRIS MLS as being an intricate network of technology providers working together to help drive the real estate industry forward. With ACTRIS MLS you can give your business an edge in the market with accurate data and a suite of powerful, reliable tools.
It offers the following services: 
Brokerage Multiple Listing Service

Residential Leasing Multiple Listing Service 

Leasing management service
ACTRIS MLS database is natively mapped to the most modern standard that is the Real Estate Standards Organization (RESO).
RESO Web API is a great innovative solution that since 2018 is replacing RETS FEED.
One of the benefits of being RESO-compliant for people who subscribe to multiple industry-standard MLSs is that they will have faster development time and consistency across multiple data providers.
The RESO API standard compliance is important and below is a list of the advantages you will get by using an MLS which is RESO ready:
As an MLS member/ subscriber, you have faster and secure access to updates/ results.

On all MLSs all data fields for software programing are standardized after RESO Data Dictionary which eliminates the need to "map" local MLS data. 

Standardized data fields make writing third-party applications straightforward with lower security concerns.

Lower hosting costs, as of decreased utilizing frequency;

Accuracy and reliability.

Access to a  suite of curated tools and technology which are being already used by outside competitors, syndicators, and aggregators.
The ACTRIS subscribers are committed to providing reliable data from 73 Areas and the 18 primary counties listed below:
Bastrop, Bell, Blanco, Burnet, Caldwell, Comal, Fayette, Guadalupe, Gillespie, Gonzales, Hays, Lampasas, Lee, Llano, Milam, San Saba, Travis, Williamson
This makes it simple to focus your search and find the ideal neighborhood and listing.
You can see the areas on the map below.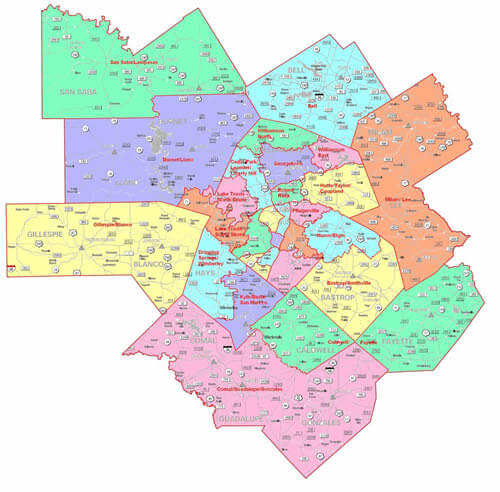 What are the Benefits of Joining the ABoR / ACTRIS MLS?
In order to get access to the ACTRIS MLS, you must be an ABoR member.
The ABoR has its own rules for access, membership, and sharing of information among its members, but it is still aligned to nationwide rules established by the National Association of Realtors. 
The ABoR team is providing a complete documentation library, training resources, and video tutorials. This allows ABoR members and their clients to be connected to the most robust marketplace with the most complete, accurate, and up-to-date listing information in Central Texas. Also, membership in the ABoR  allows you to claim that you hold a Realtor License
As a member of the Austin Board for Realtors, you have the below benefits:
Access to the ACTRIS MLS

Accurate property details

Ongoing training and education

Access to Superior Technology

Entrance to exclusive industry events

FREE Inman Select subscription
How to become a member of ABoR ?
As ABoR member you will have access to a community of experienced professionals that are committed to continual growth and development.
Before becoming a member of ABoR you would have to earn your Texas Real Estate License first.
THE TEXAS REAL ESTATE COMMISSION (TREC) has the below requirements to obtain a Texas Real Estate Sales Agent License:
You must be at least 18 years old 

You must be a U.S. citizen or a lawfully admitted alien

You must take a real estate course which lasts 180 hours

Optional – Have a broker sponsor you

Submit paperwork along with fees to the Texas Real Estate Commission

Submitting fingerprints and take the exam

Confirmation
After you will get the Texas Real Estate License whether you're a broker, agent, or other real estate professional, ABoR put at your disposal the best-in-class tools and technologies which are packed into 4 membership packages: 
Broker Membership

Affiliate Membership

ACTRIS MLS Subscription
More here: How to join Abor   and Abor Pricing
How to get Access to ACTRIS MLS API?
Everything an agent or home buyer needs to know about a property for sale is listed in the ACTRIS MLS. 
Regardless of the package, you selected, as an ABoR member or subscriber, you get FREE ACCESS to RESO API through the Bridge Interactive platform. This platform is one of the most advanced and intuitive platforms that allows transporting property data that are built on trust, open technology standards in such a way so any organization can use it quickly and efficiently.
The process of RESO API access request through Bridge Interactive on ACTRIS MLS is very simple. You must follow these steps:
Create your MLS Grid account
Email [email protected] to request an invite to Bridge Interactive
Request the ACTRIS feed details through the Bridge platform
We'll get you going fast.